A mass printer was launched by the Department of Transport and printing permits began. The department said they will not be able to enter after the license is ready, as they will be kept regularly following the license test for several months.
We are calling for it to be filled at the top, after printing all the transport offices are filled up,' a Department Source told me.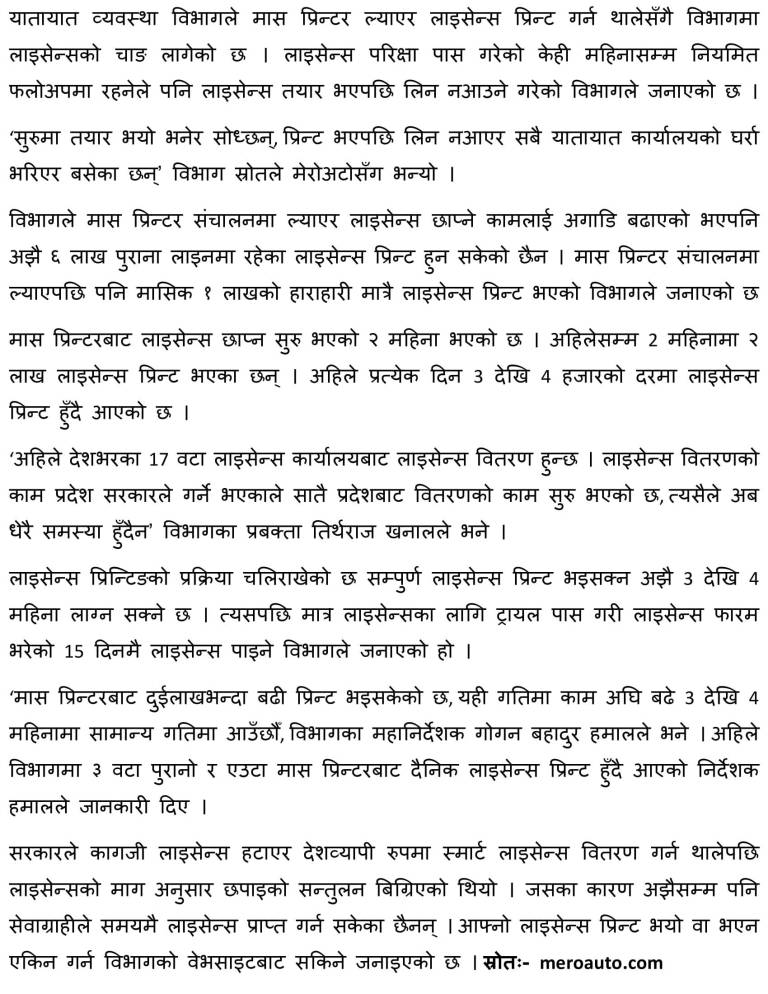 Although the agency has began printing the licenses through the service of Mass Printer, licenses have not yet been printed in the original one million old lines. Only about 1 Lakh monthly licenses are printed after the mass printer is put into operation, said the Department.
It has been 6 months since the license began to print from a mass printer. So far 2 lakh licenses have been printed in 2 months. Currently, licenses are being printed at a rate of 3 to 4 thousand every day.
Licenses are generally issued throughout the nation through 17 accredited offices. The delivery process has been begun from all 7 provinces, as the State government has issued licenses," said Raj Khanal, a spokesman for the department. "There are not many issues now."
It may take 3 to 4 months for the complete license to be printed. License Printing is underway The department said that the license will only be issued within 15 days after the license process has been passed and filled out in the license form.
"More than two million prints have been printed from the mass printers, at this pace, work will proceed at normal speed in 3-4 months," said Gogan Bahadur Hamal, director-general of the department.
Now, daily licenses are being printed from one old and one mass printer in the department, said Hamal.
The amount in printing was aligned with the requirement of the market as the Government removed the paper license and started issuance of smart licenses nationally. Because the service personnel have not earned the certificate since.
The certificate may be posted on the website of the state to check that your authorization has been issued.