Australia has been able to put itself as one of the most preferred study destinations among students in Nepal for a number of years now. The favourable climate for Nepalese students, the country's international student policies, the availability of the Nepalese community, the availability of part-time jobs for students, and Post-study work visa availability have been some of the things that have made Australia a preferred destination for International Students. 
Applying to study in Australia requires various steps to be followed by students to get admission and a study visa. There are a number of Education consultancies that offer services to students to Study in Australia. The services include University selection and application, Documentation and Visa processing. 
We have made a list of the top ten education consultancies in Nepal that offer study in Australia guidance and visa consultation for students.
We have ranked them based on our understanding of their service quality, Visa success rate and compliance with the requirements of the different authorities involved.
List of 10 best educational consultancies in Nepal for Australia
The Next Consultancy
Edwise Foundation
KIEC 
AECC Global
Nepal International Education Consultancy
Alfa Beta
Kangaroo Education Foundation
Aus Studies
Education Park
Landmark Education
Top Educational Consultancies of Nepal Explained
The Next Education Consultancy.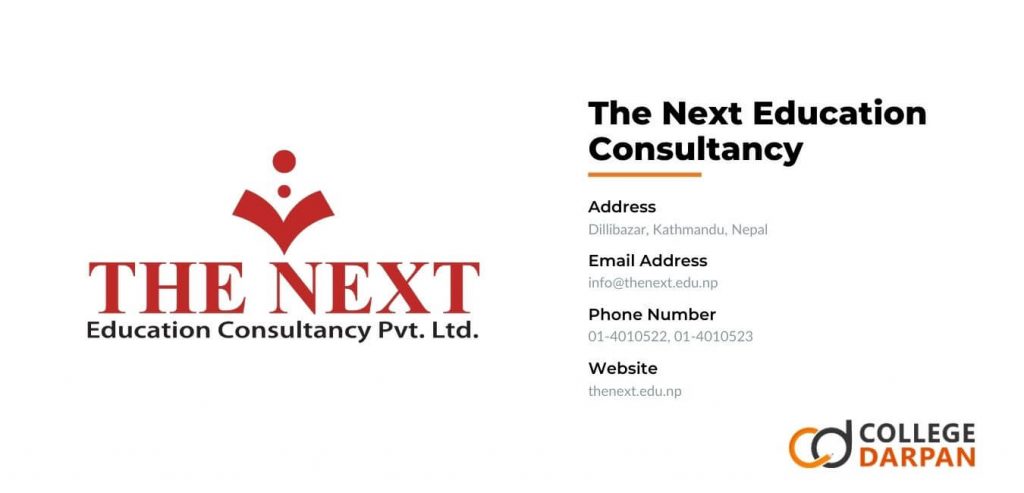 The Next Education Consultancy is one of the most popular consultancies in Nepal thanks to its strong presence on digital platforms, Student success rate and quality services.
Along with its head office in Putalisadak, Kathmandu, The Next has branches in various parts of Nepal with support offices in Sydney and Perth.
Their primary focus is to provide the best educational counselling and test preparation classes to students that are intending to pursue foreign education.
Not only Australia, but The Next Education also provides Guidance to study in New Zealand, the UK and Canada.
Reasons to choose The Next Education Consultancy
The Next's major goal is to provide accurate information regarding education, accommodation, and work-life in the student's destination.
Their test preparation classes are run by smart, experienced, dynamic, professional and friendly teachers.
They prepare students for visa interviews, the most critical aspect of the process of studying abroad, and assist them with documentation to satisfy the requirements of the bodies concerned in embassies.
Contact details of The Next Education Consultancy.
Address: Dillibazar, Kathmandu, Nepal
Website: thenext.edu.np
Email: info@thenext.edu.np
Contact: 01-4010522, 01-4010523
---
Edwise Foundation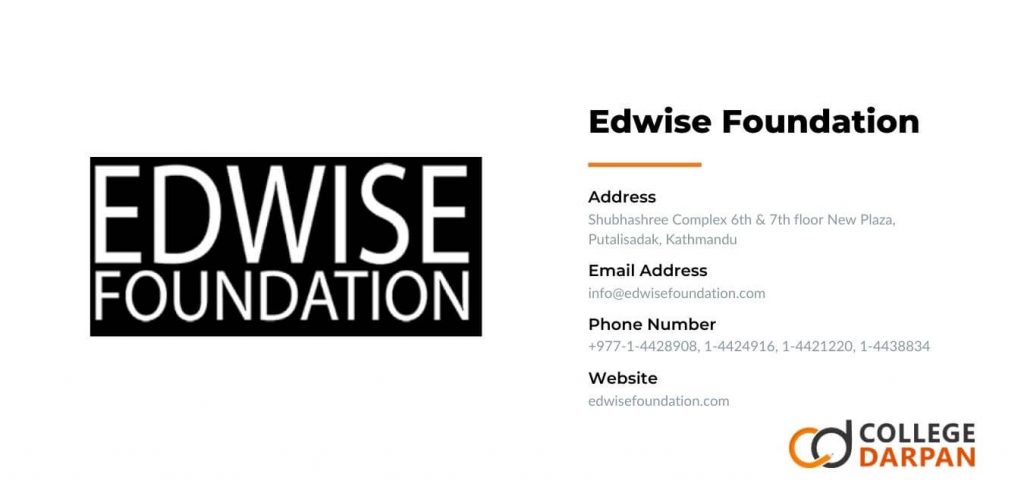 Edwise Foundation is one of the most renowned educational consultancies. The first agency in Nepal to have been certified by AIRC, American International Recruiting Council, shows its dedication to excellence in the field.
This organization has placed tons of students across many different universities in the USA, Australia, Canada and many more. 
Reasons to Choose Edwise Foundation:
First and foremost, it has a network of more than 200 institutions in different parts of the world. Students can benefit from this.
It has a team of highly skilled professionals and counsellors that will help you make the best choices regarding your study.
Edwise Foundation Contact Details
Address: P.O.Box: 9798, Shubhashree Complex 6th & 7th floor New Plaza, Putalisadak, Kathmandu
Website: edwisefoundation.com
Email: info@edwisefoundation.com
Contact: +977-1-4428908, 1-4424916, 1-4421220, 1-4438834
KIEC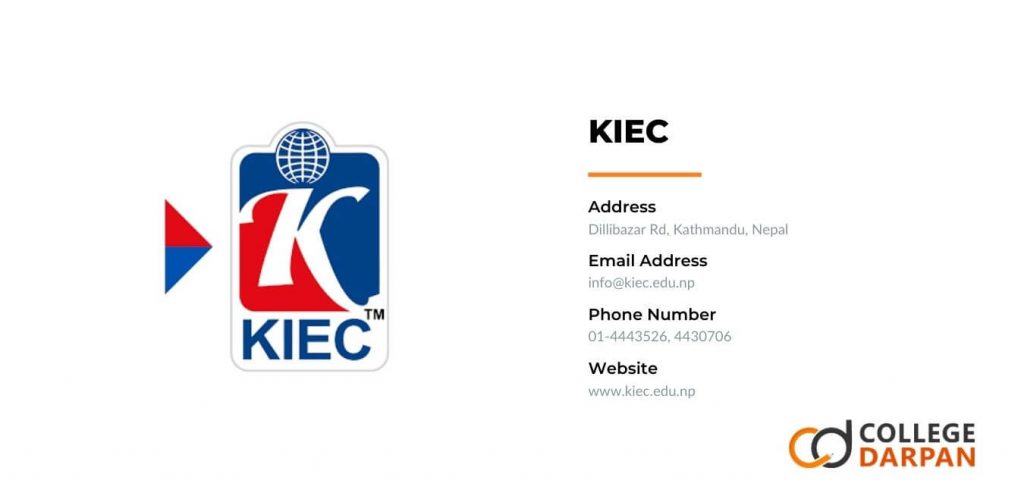 KIEC, also known as Kathmandu Infosys is an educational consultancy based in Dill Bazar, Kathmandu. KIEC offers its consultancy services and preparation classes under the authorization of the Ministry of Education.
With more than a decade of experience, KIEC and its team ensure that you get the best advice you can get for your money. It is one of the leading education consultancies in Nepal with 11 branches across different parts of Nepal and 2 branches in Australia (Melbourne & Sydney).
Reason to choose Kathmandu Infosys(KIEC).
KIEC has been providing its consulting and test preparation services for almost 15 years.
It has a team of highly trained and professional counsellors among which 5 are QEAC certified, 5 are IATC certified, 2 are US ATC certified and more than 10 are ENZ trained.
They represent some of the most prestigious universities in Australia which include the University of Western Australia, Torrens University and many more.
KIEC utilizes the latest technologies to communicate with education providers from all over the world and also with students and parents.
Contact details of KIEC Nepal
Address: 1259 Dillibazar Rd, Kathmandu, Nepal
Website: www.kiec.edu.np
Email: info@kiec.edu.np
Contact: 01-4443526, 4430706
AECC Global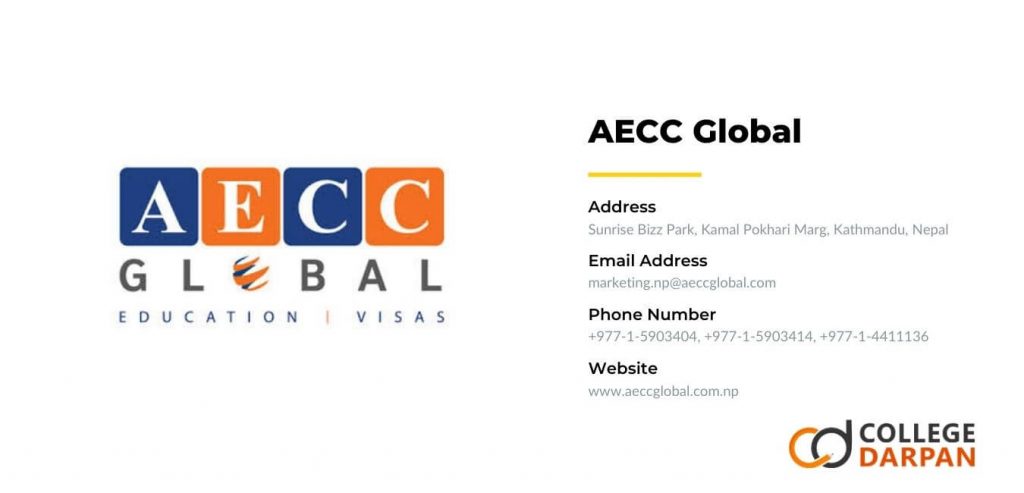 AECC Global is one of Nepal's leading educational consultants. With offices in over 12 countries across the world, this education consultancy represents more than 500 institutions over the world offering students a wide range of choices regarding their academic career.
They provide a number of services which includes expert and personalized consulting for Abroad Studies and English language preparation.
Reasons to choose AECC Global
The team is highly trained and all the members there can speak a total of 21 different languages globally.
It has received multiple awards and recognition for providing quality services in the education sector.
Most of the team members at AECC Global have experience studying in a foreign country which means you are in safe hands.
Contact details of AECC Global
Address: 5th Floor Sunrise Bizz Park, Kamal Pokhari Marg, Kathmandu, Nepal
Website: www.aeccglobal.com.np
Email: marketing.np@aeccglobal.com
Contact: +977-1-5903404, +977-1-5903414, +977-1-4411136
NIEC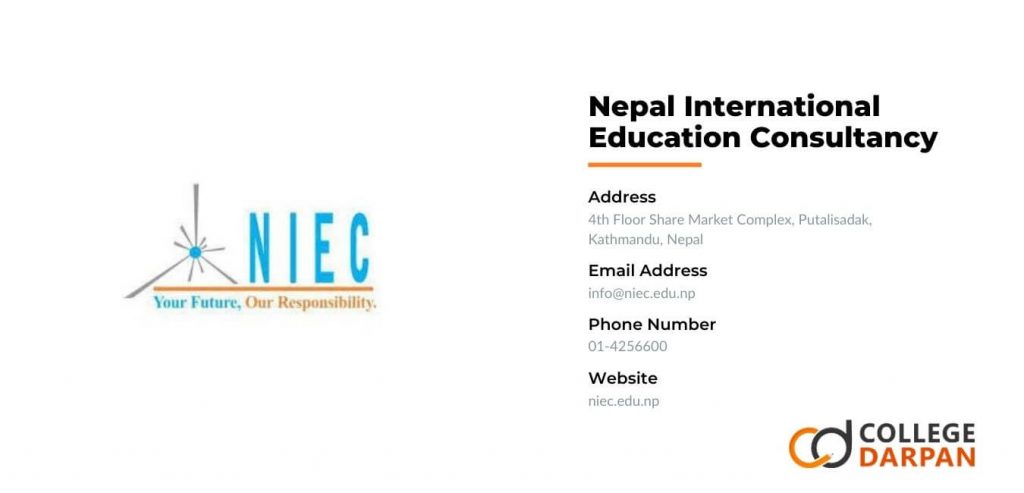 Nepal International Education Consultancy is one of the oldest educational consultancies based in Kathmandu. It has been in the industry for almost two decades with its experience in the field.
According to NIEC sources, Before being appointed to provide any information about colleges or universities in the USA, UK, Australia, New Zealand, Ireland, Canada, Cyprus, Singapore and India, NIEC student counsellors undergo extensive training.
Reasons to choose NIEC
NIEC recently partnered with NAVITAS, a multinational education pioneer with a network of 120 universities and colleges in 24 countries.
Facilities in the Study Abroad programs are unique, extensive and offer different groups of students with custom-made solutions.
They have air-conditioned their entire building premises and have fully fitted self-access centres, libraries, computer labs, classrooms and administrative blocks of which the students can take full benefit.
Contact Details of NIEC 
Address: 4th Floor Share Market Complex, Putalisadak, Kathmandu, Nepal
Website: niec.edu.np
Email: info@niec.edu.np
Contact: 01-4256600
Alfa Beta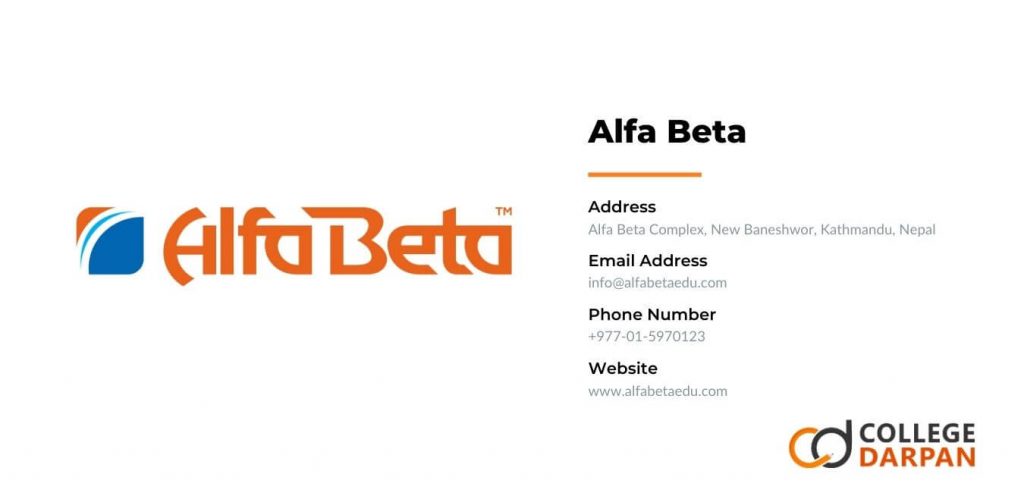 Mostly known for its English language classes and entrance preparation classes, Alfa Beta has gloriously completed 29 years and proudly serves more than 300 institutions from over 18 countries.
The organization has been committed to assisting students in making the right choice for their education and future careers globally since its founding. They are Nepal's largest test preparation hub, touching and changing the lives of over ten thousand students every year.
Reasons to choose Alfa Beta:
Their aim is to lead the industry by investing in professional human resources, state-of-the-art equipment, and cutting-edge technology in terms of efficiency.
One of their major goals is to provide a life-changing educational experience for each student and support their steps on that path.
Contact Details of Alfa Beta.
Address: Alfa Beta Complex, New Baneshwor, Kathmandu, Nepal
Website: www.alfabetaedu.com
Email: info@alfabetaedu.com
Contact: +977-01-5970123
Kangaroo Education Foundation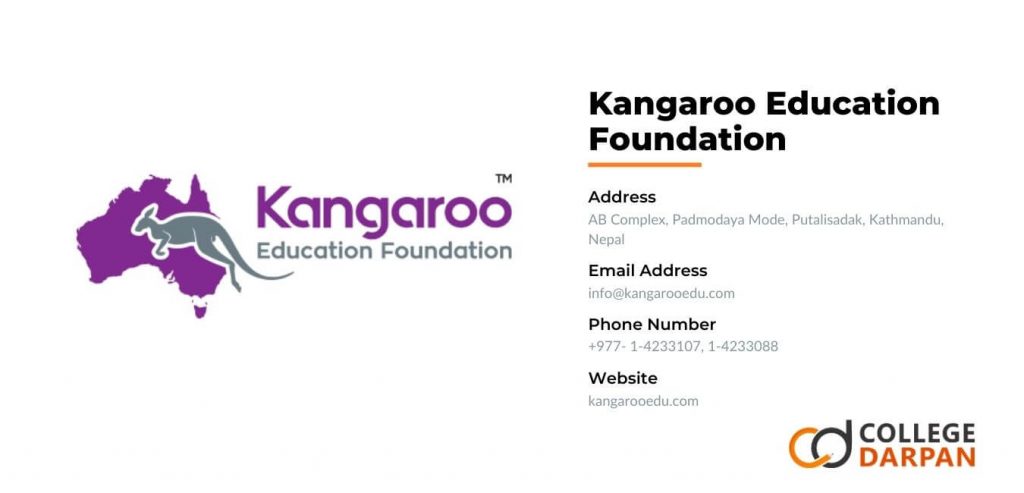 Kangaroo Education Foundation is a creative and professional educational consulting organization based in Kathmandu. They have been specializing in international academic career counselling, admission and registration to foreign universities and colleges for more than 13 years. KEF has now grown to a total of 10 offices in Australia and Nepal.
The company represents more than various educational institutions across many countries including Australia, New Zealand, Europe and Canada. In addition to that, they also provide test preparation classes for the students.
Reason to join Kangaroo Education Foundation
They have a large team of more than a hundred trained professionals who work to get you the best academic counselling and help you through the visa process and documentation process.
KEF consists of a committed team of professionals with several cumulative years of experience in education, training, consultancy and management, believing in quality service.
It has placed more than 5800 students across various universities.
Contact Details of Kangaroo Education Foundation
Address: AB Complex, Padmodaya Mode, Putalisadak, Kathmandu, Nepal
Website: kangarooedu.com
Email: info@kangarooedu.com
Contact: +977- 1-4233107, 1-4233088
Aus Studies Education
Aus Studies Education was created in order to provide counselling to aspiring students who want to learn in a foreign country, in an excellent environment, experience a multi-cultural lifestyle and have fun while learning.
Their team consists of Australian graduates, PIER-certified counsellors and Migration Registered Agents.
Reasons to Choose Aus Studies Education
They have more than 19 years of expertise in the educational consulting arena.
Aus Studies offers free processing.
They have a well-equipped classroom for test preparation.
Contact details of Aus Studies Education
Address: Kanti Path, Kathmandu, Nepal
Website: ausstudies.com
Email: info@ausstudies.edu.np
Contact: 01- 4222793
Education Park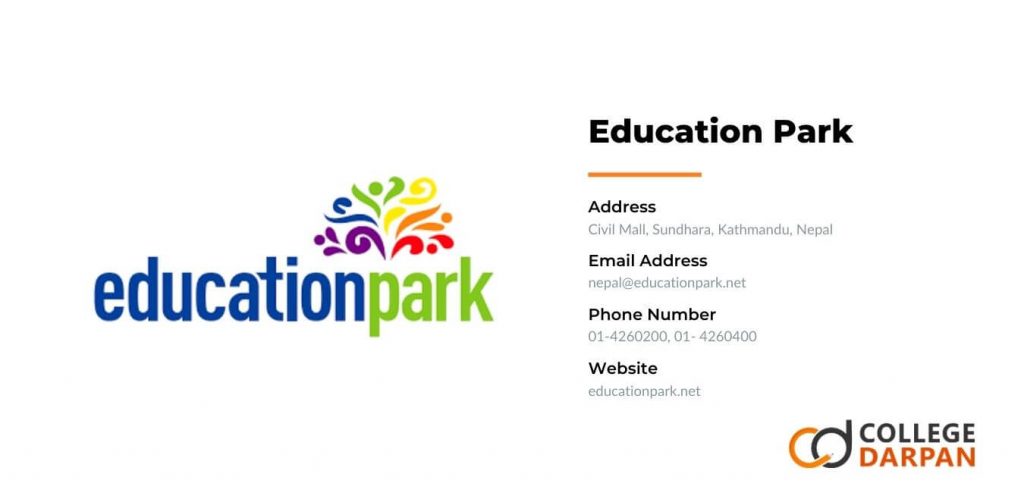 Education Park is an education consultancy based in Sundhara, Kathmandu. Education Park not only believes in assisting students with their visa processing requirements alone, but also in offering guidance based on their academic and career goals.
Education Park prides itself on having a team of professionals with years of industry experience in helping students achieve their Study Abroad Goals.
The team has always kept their eyes on their motto of "Making Student's Future Brighter" with students first and wholesome counselling.
Education Park Contact Detail 
Address: Civil Mall, Sundhara, Kathmandu, Nepal
Website: educationpark.net
Email: nepal@educationpark.net
Contact: 01-4260200, 01- 4260400
Landmark Education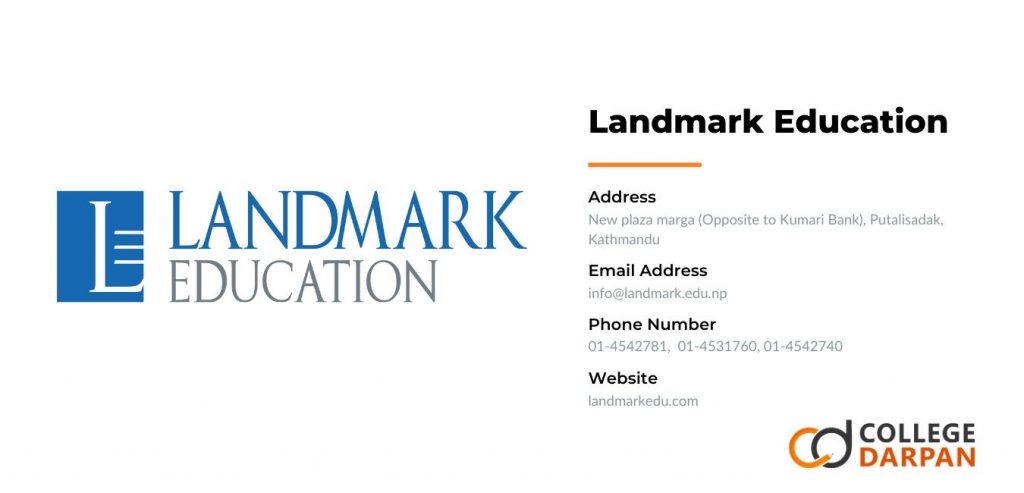 Since its establishment in 2000 AD, Focusing on students' success and delivering on the promise has been Landmark Education's approach to success. 
With a track record of quality first approach, they have become highly popular among Nepalese students and their educational partners. 
Along with the mission to provide authentic and latest information regarding studying abroad, their 20 years of expertise in the counselling sector makes them one of the best consultancies in Nepal.
Landmark Education Contact Detail 
Address: New plaza marga (Opposite Kumari Bank), Putalisadak, Kathmandu
Website: landmarkedu.com
Email: info@landmark.edu.np
Contact: 01-4542781, 01-4531760, 01-4542740