Lok Sewa Aayog Nepal Rastra Bank, Technical Assistant Second, Assistant Post Key ( D ) Time: 45 mins Full marks: 100 Subject: Computer Related Multiple Choice You want to track the progress of the stock market on a daily basis. Which type of chart do you use ? Pie...
read more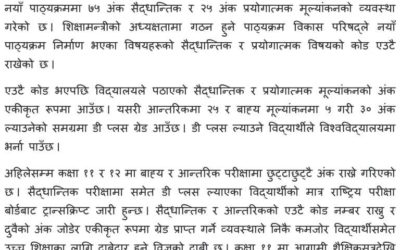 Aspiring to pursue higher education is a dream for every student. However, for some, it becomes a challenging task due to financial constraints. The National Examination Board (NEB) in Nepal has introduced a scholarship program to provide free +2 education for the...
read more
Good News for all you Diploma students out there. CTEVT, Sanothimi, Bhaktapur has published the examination routine of Regular and Partial exams of the Diploma Level. The exams will begin from Chaitra 05, 2077. Exams of the second semester of the first, second, and...
read more